Eisele pumps and agitators - constantly and everywhere in use.
Customer reference Franz Eisele und Söhne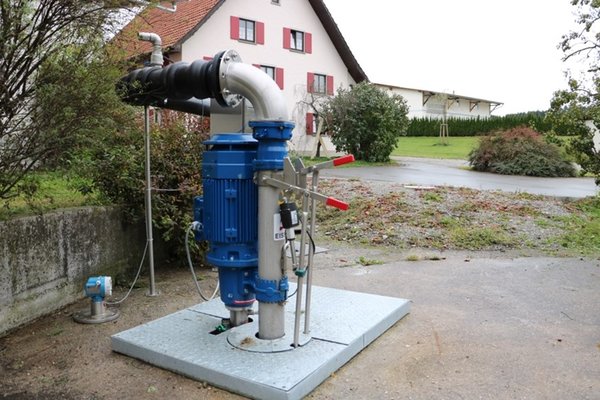 Easily remote control agitator blades of EISELE vertical pumps in biogas plants
EISELE develops solution for automatic lever adjustment on vertical pumps via PLC and app
Sigmaringen, 28 January 2022 – EISELE, a leading manufacturer of pumps and agitators for the agricultural and biogas sectors, has developed a solution for vertical pumps to automatically switch from agitation to pumping. Automatic lever adjustment eliminates the need for manual operation that was necessary until now. This means that smaller preliminary pits or tanks can be homogenised fully automatically and without the need for an additional agitator. Agitating and pumping times can now be regulated individually via the system control. The first installations were well received, for example in Günter Hartnagel's biogas plant at the Rollishof farm in Eberhardzell, Swabia.
Biogas and automation
As early as the end of the 1990s, the decision was made on the Hartnagel family's farm to focus on biogas in addition to livestock and dairy farming, whereby robust technology was also to be used; this was important for the technician Günter Hartnagel, as his training gave him a good feel for innovative automation solutions. A rotary lobe pump driven by the tractor was still in operation to pump the cattle slurry from the preliminary pit to the biogas plant. However, this pump reached its limits in winter when temperatures were below zero. A galvanised PTO agitator often had difficulties with the fibrous substrate, could not be turned optimally and could not permanently withstand the aggressive environment in the tank. Long set-up times were often required for agitating and pumping. Overall, the situation was in need of optimisation.
It took a new Eisele 18.5 kW vertical pump to bring more satisfaction. Eisele's vertical pumps effortlessly agitate and pump up to 10,000 l/min in biogas plants. They are available in lengths from 1.50 m to 7.50 m. The vertical pumps are also available as vertical compact units with up to four connection nozzles (DN 300). All piping components and rods are made of stainless steel as standard. For the variant with bottom feed (V42), the protective tube is made of stainless steel as standard, for the variant with top feed (V41), a stainless steel version is available at an extra charge.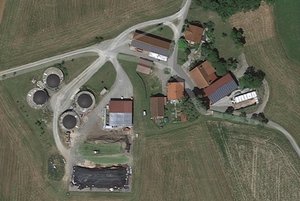 Stirring is the trick for more efficient pumping
The vertical pump at Günter Hartnagel's Rollishof farm is used to stir up the substrate with a mixed liquor suspended solids content (MLSS) of less than 9 % in the smaller tank with a capacity of 400 m³ and then – depending on the blade setting – convey it via a 100-metre pipeline to the desired tanks in the biogas plant. The stirring process takes just under seven minutes and is carried out before each pumping process.
Commenting on the pumping process, Günter Hartnagel says: "From the beginning, I thought that it should be possible to control the pump start-up electrically via the PLC. This completely eliminates the need to operate the lever manually. I save waiting times of about 15 minutes for stirring and pumping and for monitoring the tanks at both locations. That means a time saving of over 90 hours a year."
A conversation at Eisele revealed that it is basically possible to automate this process and execute it via a programmable logic controller (PLC), which was already available at the Hartnagel headquarters. The objective for Eisele was to develop a compact, easily retrofittable module for electromotive adjustment of the agitator blade on all vertical pumps – and at reasonable cost.
Reduce manual activities and improve operational safety
The result of the development work is a complete assembly that is bolted to the lever guide. The integrated servomotor with an input voltage of 12 VDC or 24 VDC (load-dependent) and electronically controlled end-stop signals moves the lever and thus the agitator blade in about five seconds after activation by the PLC to switch from agitating to pumping mode.
Electric lever adjustment eliminates the need for alternative hydraulic or pneumatic solutions at the pit. Overfilling of the tanks is no longer possible, as the pump switches off automatically. The same applies to the pump tank: if it is empty before time, the pump also switches off. Due to its design, the pump cannot be damaged by running dry, even if there is no liquid. It is not necessary to enclose the pump for protection against frost and sun (UV light). Another advantage is an app that Günter Hartnagel uses on mobile devices. This means that during a routine check, the tanks can also be checked with a mobile phone and, if necessary, an agitation and pumping cycle can be activated without having to be directly on site.
Commenting on the installation, Günter Hartnagel says: "Eisele was incredibly helpful in responding to my requirements. The results are impressive. Now all agitation and pumping processes take place reliably via the PLC or, if manual intervention is required, also via a mobile app. That's what I call progress and overall good cooperation."