Customer references & user reports
Eisele pumps and agitators - constantly and everywhere in use.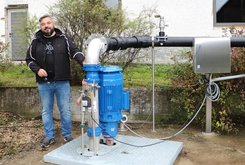 Easily remote control agitator blades of EISELE vertical pumps in biogas plants
Read more
A visit to Bioenergie Kleber
The agricultural biogas company Bioenergie Kleber in Upper Palatinate has been using the tried and tested Eisele pumps and agitators from Sigmaringen for decades. With success! Reason enough to pay Mr. Kleber a visit.
Read more